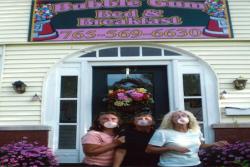 Rekindle Your Inner Spirit...

765.569.6630       517 West Ohio Street, Rockville, IN  47872

Bubble Gum Bed and Breakfast , historically built in 1909, sits at the corner of Ohio and College Street, two blocks from the county seat.  The historic home sits atop a small incline on a corner lot that marks the beginning of the towns historic district.  Rockville, Indiana is the home of the famous Covered Bridge Festival. 

Bubble Gum Bed and Breakfast has beautiful oak wood work, pocket doors, ornate fire place and Queen beds.

Relax with bubble gum and chocolate on the front porch.  Dream of days gone by when there was more hope, love and faith, trains, mills, horses and buggies, covered bridges, and great music!

Relax In A Home Filled With Faith, Hope & Love